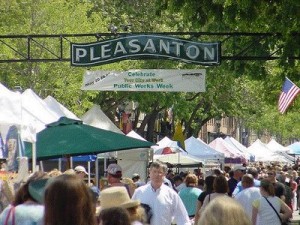 Give Ok Heating and Air a call today if you want the best HVAC services in Pleasanton.
Pleasanton, CA is based in Alameda County and has been around since 1894. It is found in the San Francisco Bay area and is located approximately 6 miles west of Livermore and 25 miles east of Oakland. There are approximately 70,285 residents enjoying the beautiful city. In 2005 and 2007, this city was recorded as being one of the richest middle sized cities in the whole of the United States. Blackhawk Network, Safeway Inc. and the Ross Stores all have home bases in this city. Visitors and residents alike all gather around to enjoy the entertainment that can be found at the Alameda County Fairgrounds which are located within the city and are open for the last week of June and first week of July. As Pleasanton is listed as number 63 in Money's list of "The Best Places to Live" Ok Heating & Air Conditioning knows how important it is for the residents to be able to rely on quality service for both their heating and cooling needs.
Trusted HVAC Services in Pleasanton
Ok Heating & Air Conditioning is here to offer every home in the Pleasanton area a chance to use a properly functioning HVAC unit. No matter if you have a central air system, a boiler or a furnace. We promise you excellent service. We have over 36 years of experience in this field and make sure that our technicians are fully trained and updated on all of the latest units and their requirements.
We offer three main areas of service to the residents of Pleasanton, they are:
Heating and Air Conditioning Maintenance
All of our service agreements include two maintenance visits to your home when you trust us to look after your heating and cooling needs. We know how important it is to every family to make sure that your Bryant systems are in perfect working order. All you need to do is give us a call to book an appointment and one of our expertly trained technicians will be more than happy to come and see how they can assist you.
Heating and Air Conditioning Repairs
We are known for our prompt and reliable service when helping all of our Pleasanton residents. Our technicians are thoroughly trained in the repair of all Bryant systems. Our experience is unmatched by any other company and we will work on your unit until you are completely satisfied the unit is running the way it should.
Heating and Air Conditioning Installation
We all know that sometimes there are times when a unit just cannot be repaired. When you decide to invest in a new Bryant unit you will enjoy high efficiency, a lower energy bill each month and easier access to changing the control temperatures on each unit so you can ensure you are both warm and comfortable any time of the year.We are here for you! Why not give us a call today and we will be happy to help you decide on the best service agreement that will fulfill all your family's needs.